Mharjurie Malaluan, 23, Degree Programme in Inter­na­tional Business
Five years ago, I immigrated with my mother to Finland – a whole new world for me. I faced a culture shock coming from the Philip­pines, which is 9,052 km away. During my first and half years in the country, I took part in two Intensive Integration programmes in Kuopio city. The courses helped me to learn more about the Finnish language, culture, education, and working life. After taking my gap year in a small city of Kitee, the achiever in me grew for the interest in entering the university life which always has a place in my heart. Given that my two families are living in two different cities, I then tried my luck. I sent my appli­cation for two University of Applied Sciences located in Kuopio and Joensuu via Studyinfo.fi.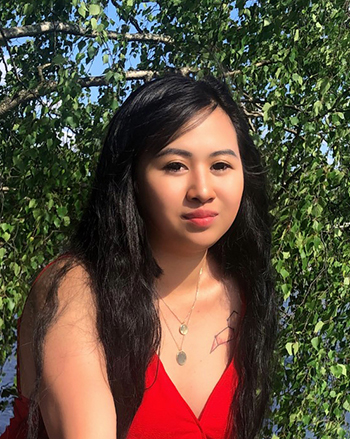 The entrance exami­na­tions came, the first one in Kuopio, and the next day was in Joensuu. The nervousness turned into joy when I received the accep­tance letter and got admitted to Karelia UAS for the BBA Inter­na­tional Business degree programme. This gave me a sign and hope to not give up on my dreams and that when one door closes, another opens. I must admit that studying in Joensuu is the best choice! Joensuu might be a small city, but this may surprise you because the city offers every­thing a student may need and want for leisure with strong cooper­ation with Business Joensuu.
My interest in exploring a new culture, travelling the world, and management background led me to study Inter­na­tional Business. Karelia UAS offers a wide variety of oppor­tu­nities in its BBA Inter­na­tional Business degree programme; from Business Management to Marketing and Sales, Commu­ni­ca­tions – Inter­na­tional and Global, Accounting, to name some. Exchange studies and Intern­ships are offered in partnership with the Erasmus+ programme. I, as a third-year student, have started as a Digital Marketing Intern in a business consulting firm based in Barcelona, Spain. Studying at Karelia UAS has been very flexible, open, fun, and hands-on, and I want to give credit to my lovely professors. They have supported me through ups and downs: I even received an award of appre­ci­ation for my excellent study progress, motivation, and integration. I highly recommend studying in Karelia UAS for everyone who is looking for inter­na­tion­ality with a student wellness supportive environment.